I'm laying on the cold hard ground inside of a rusty dark closet. I am trying to calm my breathing, and I am trying to stop the tears that won't stop flowing. I am almost to the point of passing out, and I feel vomit creeping up my throat. I feel my insides filling up with fluid, and I feel the shadow of shame creep over my thoughts. I begin my usual routine when this happens. I rapidly type an apology note on my iPhone, begging for love and forgiveness. I creep out of the closet only to find him smugly sitting on the couch watching a show. Scared to look him in the eye, I hand him my phone and beg him to read the note. He puts the phone down and smiling says "I can't deal with you when you cry like this; it's an embarrassment, so you need to go back into the closet." I feel light headed and think back to how when I met him, he would hold me close and whisper sweet lullabies in my ear until I felt better. I wouldn't even admit to myself, that he was the one who caused the panic attack I was having.
It's funny how what seems like innocent teen romance can turn into a nightmare of dating abuse within a few short months. It started in the spring. I was a young seventeen-year-old girl, who thought she had met the love of her life. I fell in love with those piercing green eyes, the way he'd pull me close, his car, his lips, his voice, his scent. He was perfect. He understood me like no one else, he was my best friend, and things between us moved oh so fast. Within two months he was showing me wedding rings, and I ignored the fact that I was in high school and fell in love with the future he promised me. I lost my virginity to him, and I never felt more in love than I did that summer following the spring we started dating. He cooked me dinner, bought me flowers, and made sure I couldn't live without him. He wanted to spend every day with me, and he would subtly point out flaws in all of my friends. He would also subtly point out flaws in me, making me feel I needed him to be whole. It would be something sarcastic like "Oh my god babe no, let me do that for you," and before I knew it I needed his help with almost everything that I did. At the time he made me feel safe. He would say "you're not allowed to smoke or drink unless I am with you" or "If you are going to hang out with your guy friends I need to be there." I couldn't believe someone cared about me so much; I was so flattered by him. My world revolved around him, and I didn't even know who I was without him.
The months of July and June had me wrapped in affection and worship. However, when August started a creeping feeling of something is just "off" started forming in my heart. It started when he devalued my dreams. My big dream of being a lawyer and going on a grand adventure to college outside of the state and changing the world suddenly threatened him. He would say things like "you're just not ready" or "you aren't nearly independent enough." Eventually, I started to believe these things. I broke my families heart when I told them I was not ready to follow my big dream, and that I would be staying in state for college.
Then I started to notice how I felt when I was not with him. He made me swear not to smoke or drink ever, and when I did I felt extremely guilty, would end up calling him, and he would punish me by giving me the silent treatment or making me feel horrible about myself. I just wanted to be a normal teenager and experiment with things, and I started to feel like he was more a "dad" than a boyfriend.
Throughout August he never let me hang out with any friends, and I felt I was losing them all. Sometimes I'd ignore him, and decide to go out with a friend for a night, and this is when he would show rage like no other. He would cry, scream, throw things, and scare me. I convinced myself he was "trying to protect me." I would continuously apologize for his actions, and the two of us even made a suicide pact swearing we'd kill ourselves if we broke up. The end of the summer was when I started to have no freedom sexually. He became very aggressive, choking me, and forcing me to do things I wasn't comfortable with. In August, I still had no idea what was happening, and I made a million excuses for his behavior. The real abuse started in September, the start of the school year.
I lost all of my girlfriends. He was all I had left. He began checking my phone, and he always accused me of cheating. I remember I was looking forward to my senior homecoming; it was supposed to be an extraordinary night for me. He knew this better than anyone. That is why the night before homecoming he told me he refused to go with me. He gave me the silent treatment, and told me he was "going away for a while." I called him and apologized multiple times. I texted him and poured my heart out. I didn't understand why someone who "loved" me was hurting me so much. That is when my mother came into my room and said: "This isn't love, he is abusing you." However, I was still very much in denial.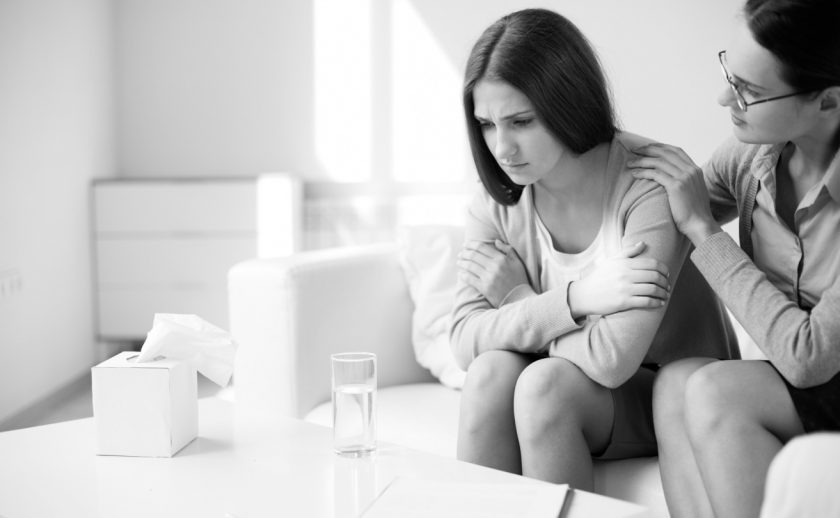 The next morning he texted me like nothing had happened and decided to take me to homecoming. It all started good, but when we got there, he refused to dance with me. He said his parents were mad at him, and he began lashing out at me. I decided to be strong, so I went to dance with some girls, and he had a rage fit telling people I "wasn't there for him, and that he was going to 'break up with me.'" Then he threatened to actually break up with me, multiple times. He told me other people thought I was being "unreasonable and crazy," and made me genuinely believe those things. The car ride home was worse. He broke up with me, and I cried and felt like I just had my heart ripped out. When we got to my house, he acted as nothing happened, hugged me, and told me how much he loved me, and that he would never leave me.
Often, I would want to hang out with friends. One time, all of my friends were together hanging out. I told him I wanted to go and that he should come. He would always angrily respond with, "fine just go with them", but then punish me for actually going by withholding affection, threatening me, or giving me the silent treatment. This was very confusing for me. I would find myself bending over backward trying to get him to love me. I tried everything to make him happy only to be face to face with a cold person who wouldn't even hold my hand. I felt it was my fault like I had somehow caused his behavior.
He also began controlling how I spent my money and taking all the money I had for himself. I would also find that sex was no longer enjoyable. I cried almost every time we had it, and I would sometimes even tell him to "stop" and he would either not stop, or punish me for making him stop. He was very sexually aggressive and violent, and I found myself fearing sex. One day, I had enough, so I broke up with him. Then I became very suicidal and attempted to hang myself, which thankfully did not work. This was the first time we truly broke up, and the pain was unbearable. He confused me during this time because he showed me more love than he ever did when we were dating. He texted me apologies, brought me candy, hugged me and promised to change…sadly, I fell for it. I ended up believing he would keep his word and change, so I got back together with him. He did not change, in fact, he got worse, punishing me for leaving.
He started to punch things around me. One time he broke the vent on his car, he had hit it so hard his knuckles started bleeding. He would smack his car a lot. At this point, he was always cold to me. I wanted the love back so bad that I lived off of the small amount of time he would give it to me. Usually, after he had yelled at me or driven me to the point of throwing up, he would show me a tiny amount of love. I began to frequently have major panic attacks, and he would say "you are such an embarrassment." He would tell me to "shut up" because people would look at us weird when I was crying in public. He would be violent but say it was a "joke" or "sexual" by choking me or pushing me. I had lost myself, my friends, my hobbies, and everything that defined who I was. Still, I would have done anything for him, and I did everything he wanted. My parents were concerned when they noticed after I was with him I cried every day. I eventually heard about the term "narcissist" and began researching it. I then realized I was in a very abusive relationship. My mom and my best friend convinced me to end things, but first I needed to know I had a support group. I told my girlfriends what was happening, and I was beyond grateful that they came to my aid. It turns out the friends I thought I had "lost" were still there after all. Then in November, I broke up with him.
Well, the games didn't end. He would talk to my friends all the time, email me love paragraphs, play the victim, and say I was "crazy." I played in at first but quickly realized that only made it worse on me. So he gave up, and within about two weeks of the breakup, he found another girlfriend. His Instagram quickly became full of happy pictures of them saying how in love they were. His new girlfriend even created a nasty post about me. Yes, I was hurt at first, and the pain was almost unbearable. So I had to remind myself who he was, and that he could not have met the love of his life or just instantly changed in two weeks. I began therapy and did something called "EMDR" to help me work through the trauma, and this was very helpful. I decided to try to love myself. I still work on loving myself every day. It is a hard but doable task.  This was the hardest thing that has happened to me, but it taught me the valuable lesson of bravery, boundaries, being in my truth, loving myself, and understanding that "no" is a complete sentence. I know I have the inner strength to get through anything, and I am more than willing to help others.
Hailee would love to be another survivor for others to be able to talk to for support, talking through struggles with depression and suicidal thoughts, and lifting each other up throughout our healing process. Follow her on Instagram @feministqueeenss to get in contact with her.